BSP Series Standard Galvanized Carbon Steel One Piece Hydraulic Hose Fittings & Hose
Product Description
BSP Series Standard Galvanized Carbon Steel One Piece Hydraulic Hose Fittings & Hose
 Product Catalogue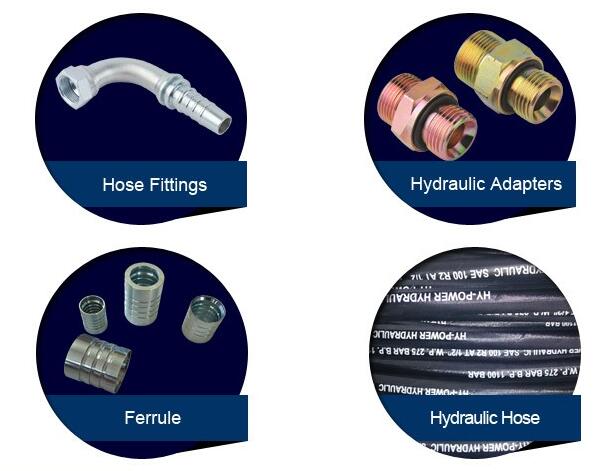 Hydraulic hose fitting Catalogue
1. Swaged Metric Fittings

Mertic Flat Seal Fittings 

Metric Multiseal Fittings

Metric 60°Cone Seal Fittings 

Metric 74°Cone Seal Fittings

Metric 24°Cone O-RING Seal L..T Fittings

Metric 24°Cone O-RING Seal H.T.Fittings

Metric Standpipe Straight Fittings

JIS Metric 60°Cone Seal Fitting

2. Swaged British Fittings

BSP O-RING Seal Fittings 

BSP Flat Seal Fittings

BSP Multiseal Fittings

BSP 60°Cone Seal Fittings

BSPT Fittings

JIS BSP 60°Cone Seal Fittings

3. Swaged American Fittings

SAE O-RING Seal Fittings 

ORFS Flat Seal Fittings

NPSM 60°Cone Seal Fittings

JIC 74°Cone Seal Fittings

NPT Fittings SAE Flange L.T. Fittiings

SAE Flange H.T.Fittings

4. Staplelok Fittings

Banjo Double connection 

interlock Hose Fittings

5. Ferrule

FERRULE for SAE100R1AT/ EN 853 1SN HOSE

FERRULE for SAE100R1A EN 853 1ST HOSE

FERRULE for SAE100R2AT/DIN20022 2SN HOSE

FERRULE for SAE100R2A/EN 853 2SN HOSE

FERRULE for SAE100R1AT-R2AT,EN853 1SN-2SN and EN 857 2SC

FERRULE for 4SP,4SH/10-16,R12-06-16 HOSE

FERRULE for 4SH,R12/32 HOSE

6. Metric Adapters

Metric Thread O-RING Face Seal Adapters

Metric Thread Bite Type Tube Adapters

JIS Metric Thread 60°Cone Adapters

Metric Thread 74°Cone Flared Tube Adapters

7. British Adapters

BSP Thread 60°Cone Adapters

JIS BSP Thread 60°Cone Adapters

BSPT Thread Adapters

8. American Adapters

ORFS Adapters JIC 74°Cone Flared Tube Adapters

NPT Thread Adapters
Fitting Photos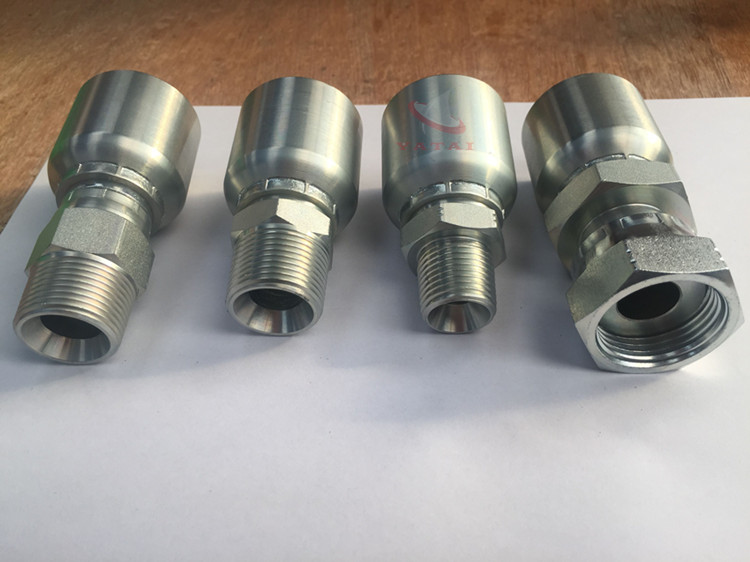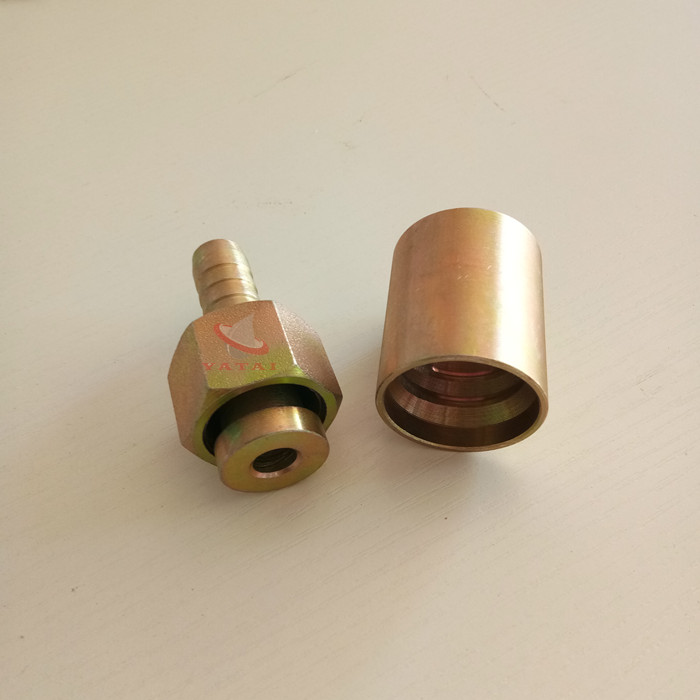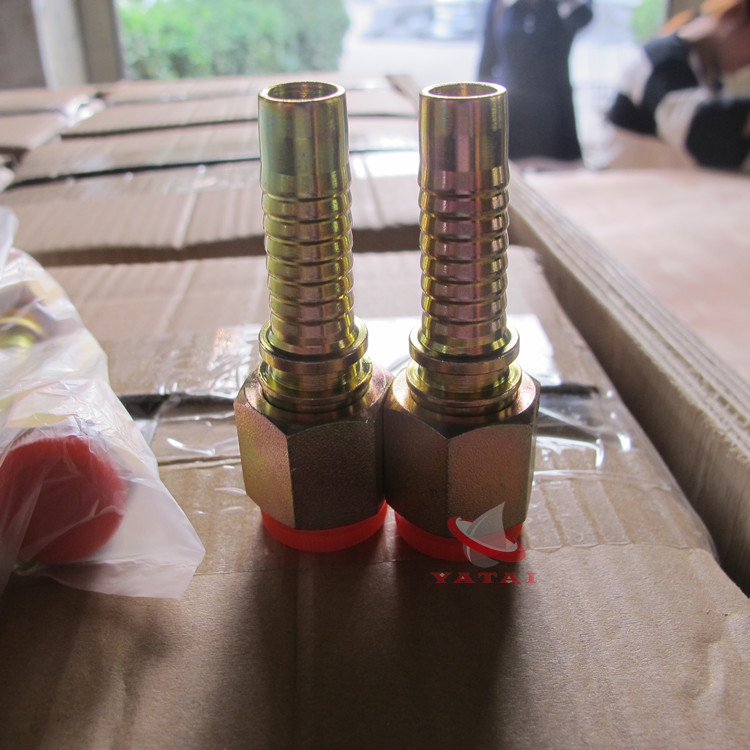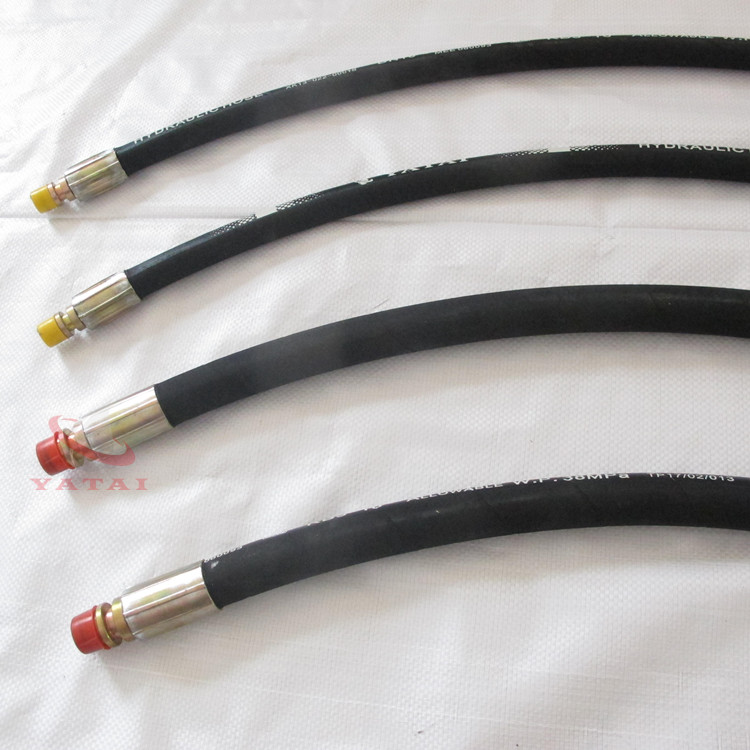 Package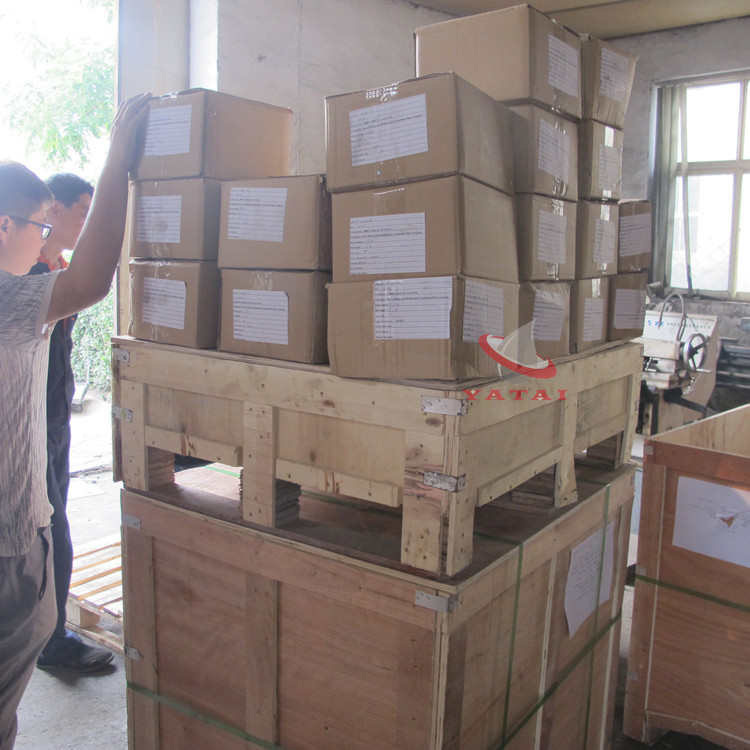 Note:We can supply you standard hydraulic hose fittings and customized sizes are ok if your quantity is large.Sample is available.
Hengshui Yatai Rubber Co.,LTD. 
Management Principles




Consistent; Reliable; and Credible.




In Business Long Term.




100% Environmentally Conscious; 0% Pollution


  

Research & Development




Product Research & Development is the lifeline of a company's growth, and proprietary technology is the basis for manufacturing superior products. Facing an ultra competitive market and a dynamic economic environment, we realize that the only way for us to stay ahead of the competition is to continuously innovate and upgrade our products, as well as improving manufacturing technology.




 


The company is currently full steam ahead in rolling out new plans based on implementation of the ISO 9000 blueprint. With further enhanced employee training program, we strive confidently and with great expectations toward our goals of "

Provide reliable security guarantee for conveying fluid

"


 

Professional Rubber Hose Maker




Rubber parts play a vital role in heavy and light industries due to their wide applications such as household appliances, transportation, medical equipments, heavy machinery, electrical cables, sporting equipments, fuel carrying, aerospace and military. They are an integral component of many parts and accessories in almost all industries.




 


We specialize in manufacturing all kinds of rubber products like rubber hose, gasoline hose, Steam Hose, washer hose, air compressor hose,LPG hose and fittings. Materials range from EPDM, NBR, SBR and other synthetic rubber.


  

Hengshui Yatai




Hengshui Yatai is a old brand comes with the concept "High Quality is our soul." to provide customers custom-made and rubber hose products.

Product Range

 

 

 1) Wire Braid Hydraulic hose series:

SAE 100R1 AT,  SAE 100R2 AT,  SAE 100R5,  SAE 100R16, SAE 100R17

DIN EN853 1SN,  DIN EN853 2SN,  DIN EN857 1SC, DIN EN857 2SC.

2) Wire Spiral Hydraulic Hose series:

SAE 100R9, SAE 100R12, SAE 100R13, SAE 100R15

DIN 20023 EN 856 4SP /4SH.

3) Textile Braid Hydraulic Hose: 

SAE 100 R3, SAE 100 R6

4) Rubber Resin Hose:

SAE100 R7 / EN 855 R7, SAE 100R8 / EN855 R8

 5) All kinds of hose fitting:

Carbon steel fitting, stainless steel fitting, brass fitting
Our Factory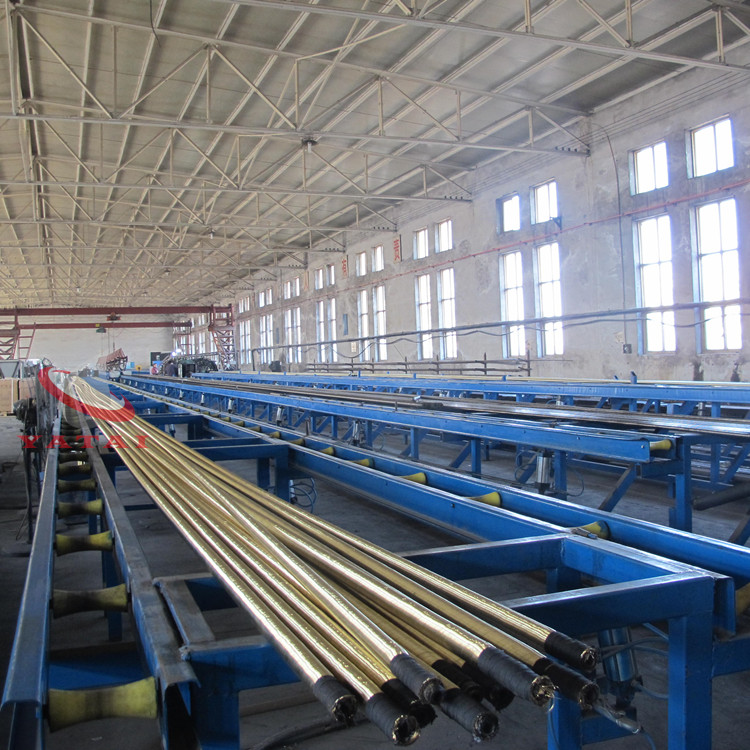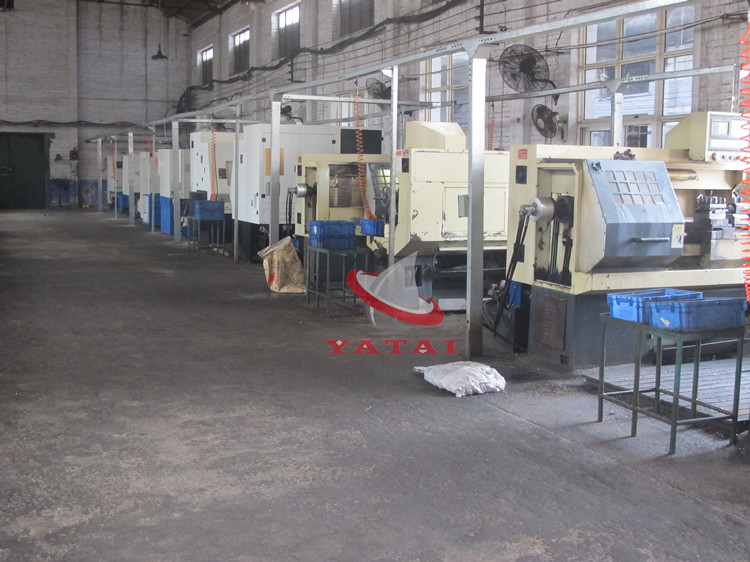 Our certificates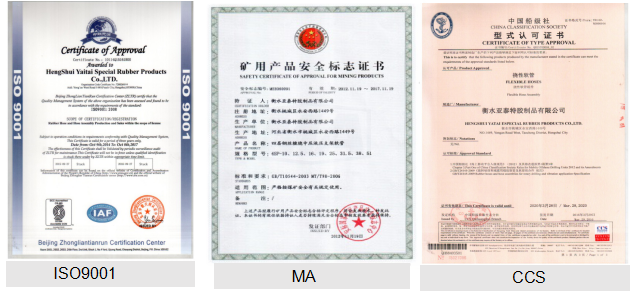 Exhibitions we attend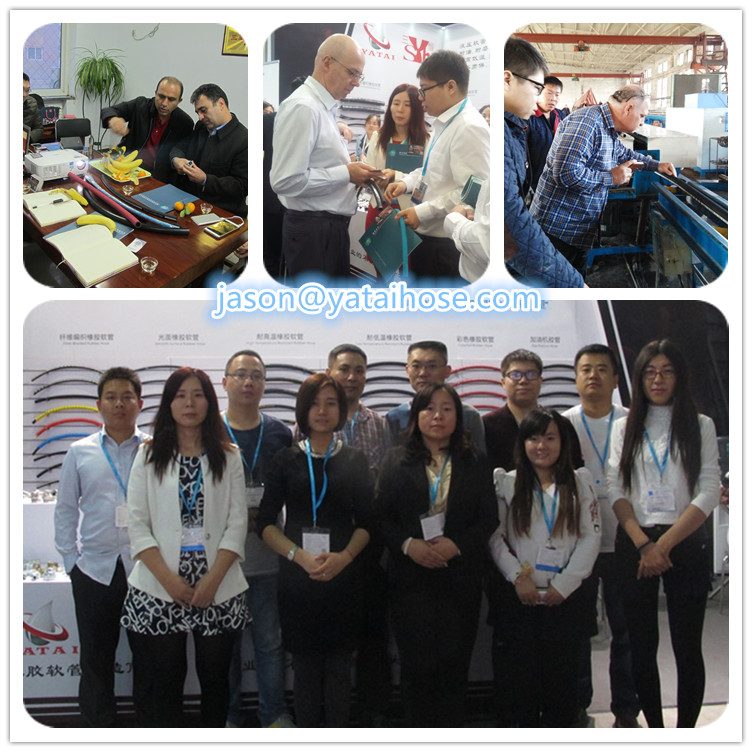 Our QC procedure: 
As we had more than 5 professional and technical personal, they ensure 100% products checking. 
1. Material checking: strictly control of material using, meet international requested standards; 
2. semi-finished products inspection: product inspection before 100% finished ; 
3. production line test: with work team or data engineer who will inspect matchines and lines at fixed period. 
4. finished prodcuct inspection: quality and property test before products are plated zinc, packed and loaded. 
Any other information you want, please contact me.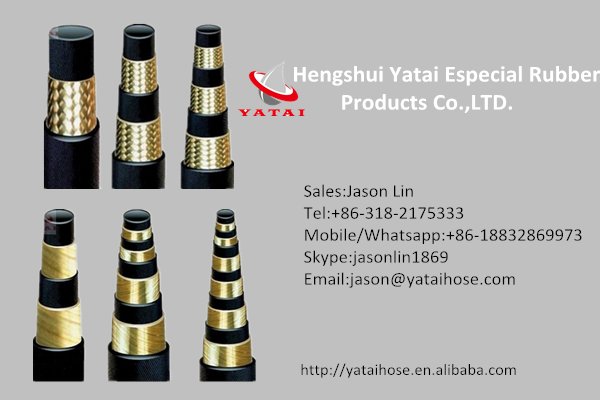 Product Categories : Hose Fittings