3/8 inch EN/DIN rate oil resistant synthetic rubber hose hydraulic rubber hose for mineral oils
Product Description
3/8 inch EN/DIN rate oil resistant synthetic rubber hose hydraulic rubber hose for mineral oils
3/8 inch EN/DIN rate oil resistant synthetic rubber hose hydraulic rubber hose for mineral oils  
HENGSHUI YATAI ESPECIAL RUBBER PRODUCTS CO.,LTD is established in 2001 year.
HIGH QUALITY IS OUR COMPANY SOUL!!!
we specialized in rubber hoses for more than 15 years, there are near 100 workers and
technology staff .10 person with many years experience.
Italy VP high speed braided machine of 6 sets improve production capacity and quality .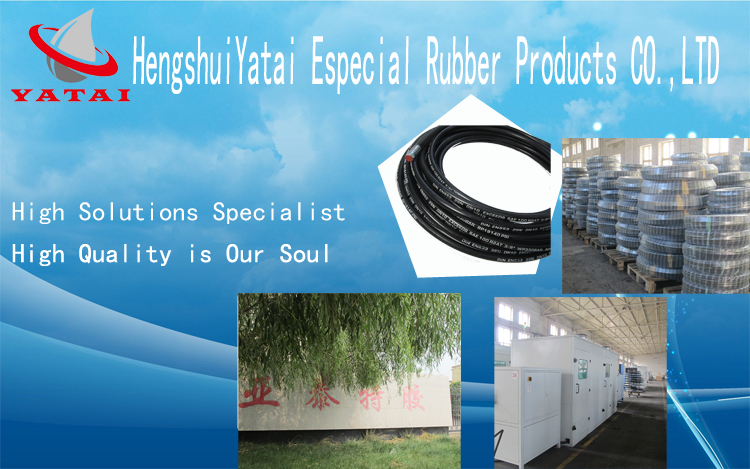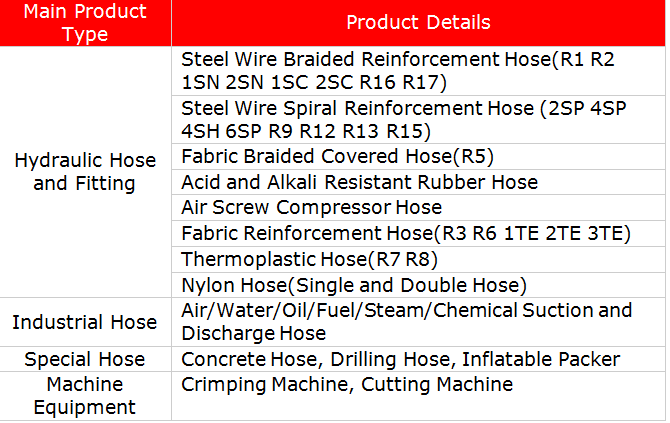 3/8 inch EN/DIN rate oil resistant synthetic rubber hose hydraulic rubber hose for mineral oils       
RUBBER PIPE:Oil resistant synthetic rubber
rubber hose Reinforcement:One or two steel wire braided layer
rubber hose Cover:Oil, abrasion and weather resistant synthetic rubber. MSHA approved
rubber hose Temperature Range:-40° to 100°C (-40° to 212°F), petroleum base fluids intermittent to 125°C (257°F).
rubber hose Application:For medium pressure hydraulic oil lines, return lines, grease lines, water lines and power steering hoses.
                                           Hydraulic Rubber Hose (SAE 100R1AT, EN 853-1SN)
DN

Hose I.D

Wire O.D

Hose O.D

Working Pressure

Burst Pressure

Minimum Bend Radius

Weight

Length

inch

mm

mm

mm

MPa

psi

MPa

psi

mm

kg/m

metres

5

3/16

4.8

9.5

11.8

25.0

3630

100.0

14280

89

0.19

50/100

6

1/4

6.4

11.1

13.4

22.5

3270

90.0

12840

102

0.21

50/100

8

5/16

7.9

12.7

15.0

21.5

3120

85.0

12280

114

0.24

50/100

10

3/8

9.5

15.1

17.4

18.0

2615

72.0

10280

127

0.33

50/100

13

1/2

12.7

18.3

20.6

16.0

2320

64.0

9180

178

0.41

50/100

16

5/8

15.9

21.4

23.7

13.0

1890

52.0

7420

203

0.45

50/100

19

3/4

19.0

25.4

27.7

10.5

1530

42.0

6000

241

0.58

50/100

25

1

25.4

33.3

35.6

8.8

1280

35.0

5020

305

0.88

50

32

1 1/4

31.8

40.5

43.5

6.3

920

25.0

3600

419

1.23

20/40

38

1 1/2

38.1

46.8

50.6

5.0

730

20.0

2860

508

1.51

20/40

51

2

50.8

60.2

64.0

4.0

580

16.0

2280

635

1.97

20/40
Hydraulic Rubber Hose (SAE 100 R2AT/DIN EN 853 2SN)
DN

Hose I.D

Wire O.D

Hose O.D

Working Pressure

Burst Pressure

Minimum Bend Radius

Weight

Length

inch

mm

mm

mm

MPa

psi

MPa

psi

mm

kg/m

metres

5

3/16

4.8

11.1

14.1

41.4

6000

160

23720

89

0.32

50/100

6

1/4

6.4

12.7

15.7

40

5800

160

22840

102

0.36

50/100

8

5/16

7.9

14.3

17.3

36

5250

140

20000

114

0.45

50/100

10

3/8

9.5

16.7

19.7

33.1

4800

132

18840

127

0.54

50/100

13

1/2

12.7

19.8

23.1

27.6

4000

110

15720

178

0.68

50/100

16

5/8

15.9

23

26.3

25

3630

100

14280

203

0.8

50/100

19

3/4

19.0

27

30.2

21.5

3120

85

12280

241

0.94

50/100

25

1

25.4

34.9

38.9

16.5

2400

65

9420

305

1.35

50

32

1 1/4

31.8

44.5

49.6

12.5

1820

50

7140

419

2.15

20 to 40

38

1 1/2

38.1

50.8

56.0

9

1310

36

5140

508

2.65

20 to 40

51

2

50.8

63.5

68.6

8

1160

32

4560

635

3.42

20 to 40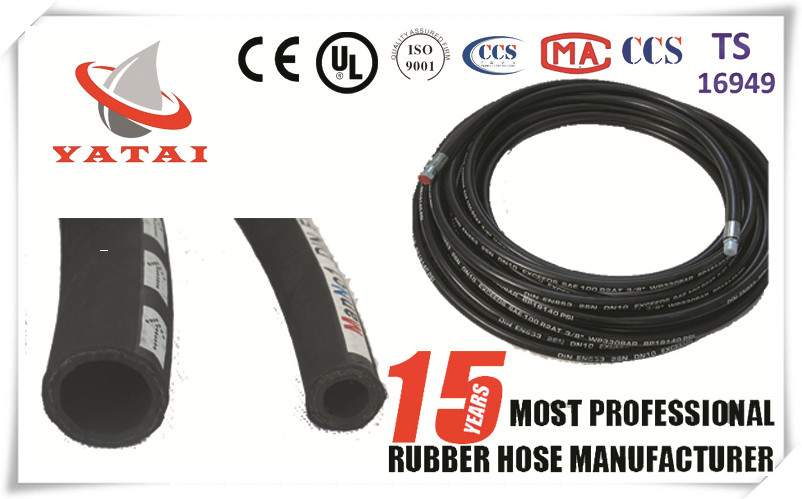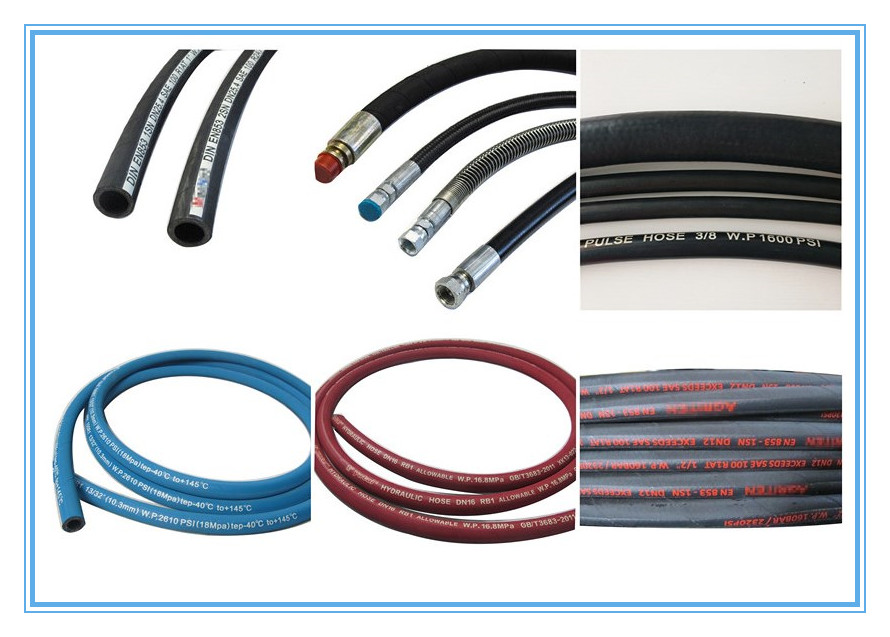 Hydraulic Hose Processing Procedures: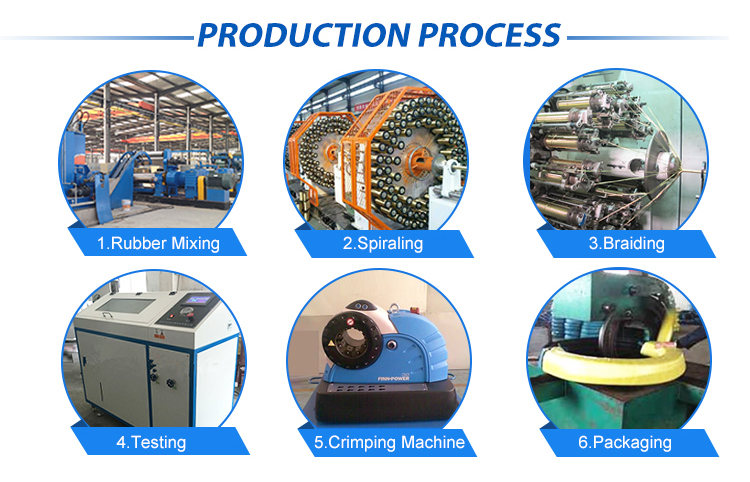 3/8 inch EN/DIN rate oil resistant synthetic rubber hose hydraulic rubber hose for mineral oils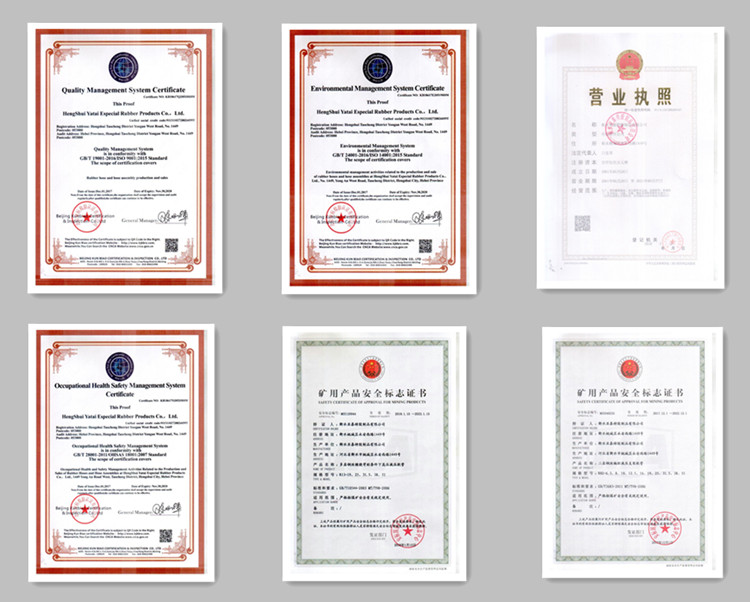 Welcome to Inquiry for 3/8 inch EN/DIN rate oil resistant synthetic rubber hose hydraulic rubber hose for mineral oils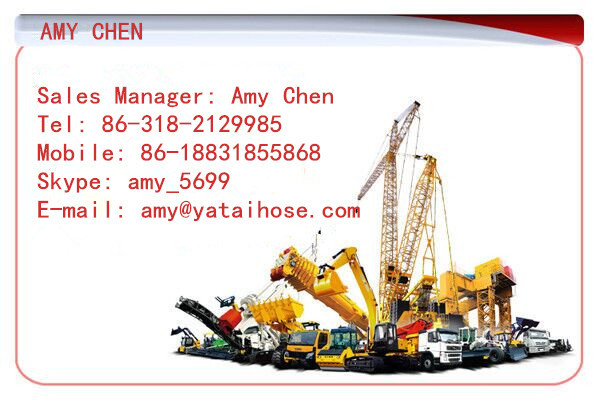 Product Categories : More Products