SAE100 R9 R12 R13 R15 4SH 4SP Rubber Hydraulic Pipe
Product Description
SAE100 R9 R12 R13 R15 4SH 4SP Rubber Hydraulic Pipe
     SAE100 R9 R12 R13 R15 4SH 4SP Rubber Hydraulic Pipe
Tube : Oil resistant synthetic rubber
Reinforcement : Two,Four Six high tensile steel wire spiral layers
Cover : Abrasion and weather resistant synthetic rubber
Temperature range : -40 °c to 100 °c
 Hydraulic Hose DIN EN 856 4SP  
DN

Hose I.D

Wire O.D

Hose O.D

Working Pressure

Burst Pressure

Minimum Bend Radius

Weight

inch

mm

mm

mm

MPa

psi

MPa

psi

mm

kg/m

10

3/8

9.5

17.5

21.4

45.0

6500

180.0

26000

180

0.78

13

1/2

12.7

20.2

24.6

41.5

6000

166.0

24000

230

0.93

16

5/8

15.9

23.8

28.2

35.0

5000

140.0

20000

250

1.17

19

3/4

19.0

28.2

32.2

35.0

5000

140.0

20000

300

1.48

25

1

25.4

35.5

39.7

28.0

4000

112.0

16000

340

2.02

32

1-1/4

31.8

46.0

50.8

21.0

3000

84.0

12000

460

3.05

38

1-1/2

38.1

52.4

57.2

18.5

2700

74.0

10800

560

3.52

51

2

50.8

65.3

69.8

16.5

2400

66.0

9600

660

5.20
Hydraulic Hose DIN EN 856 4SH  
DN

Hose I.D

Wire O.D

Hose O.D

Working Pressure

Burst Pressure

Minimum Bend Radius

Weight

inch

mm

mm

mm

MPa

psi

MPa

psi

mm

kg/m

19

3/4

19

29.2

33

42

6090

168

24360

280

1.61

25

1

25.4

36

39.9

38

5510

152

22040

340

2

32

1-1/4

31.8

42.9

47.1

32.5

4710

130

19850

460

2.64

38

1-1/2

38.1

49.8

55.1

29

4205

116

16820

560

3.36

51

2

50.8

64.2

69.7

25

3625

100

14500

700

4.98
  Hydraulic Pipe Procedures: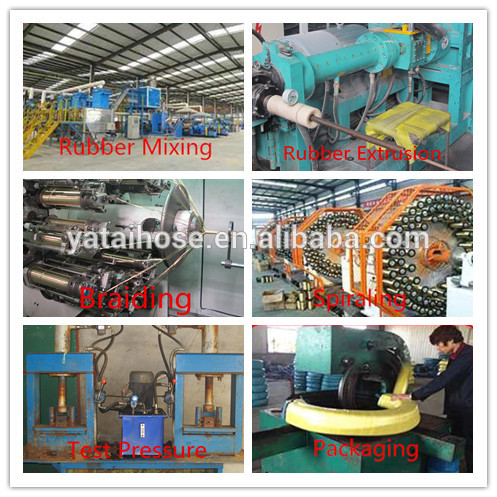 Hydraulic Pipe Products: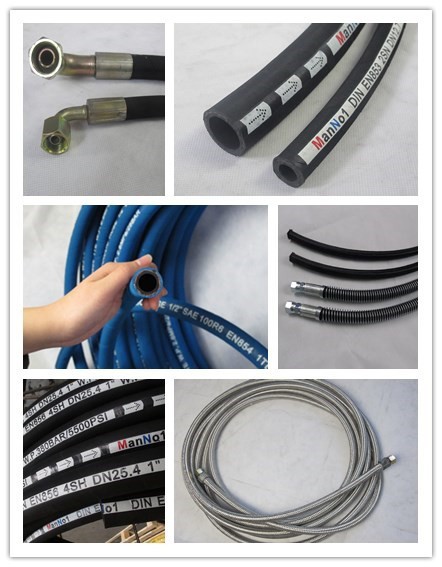 Hydraulic Pipe Equipment: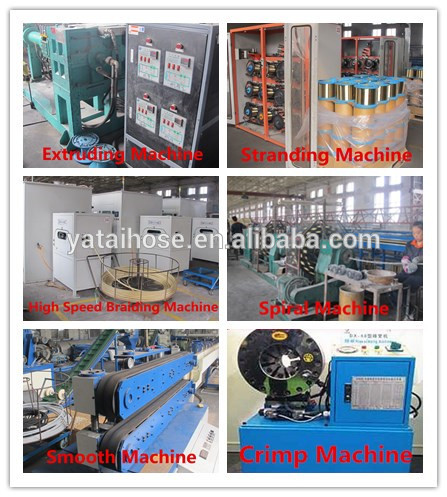 Hydraulic Pipe Pictures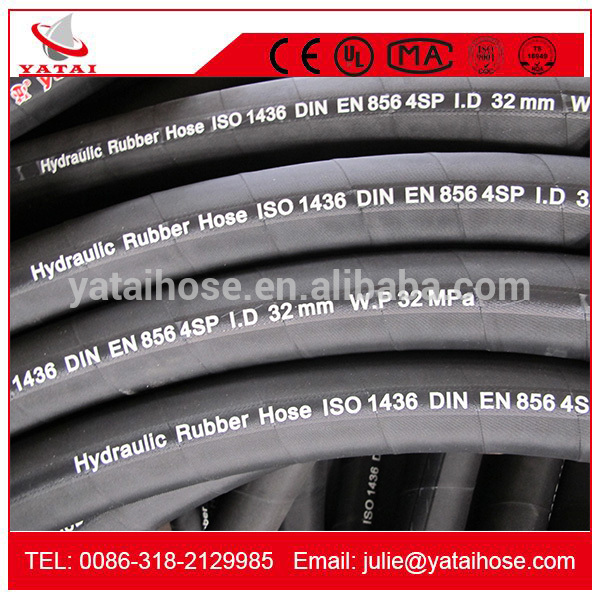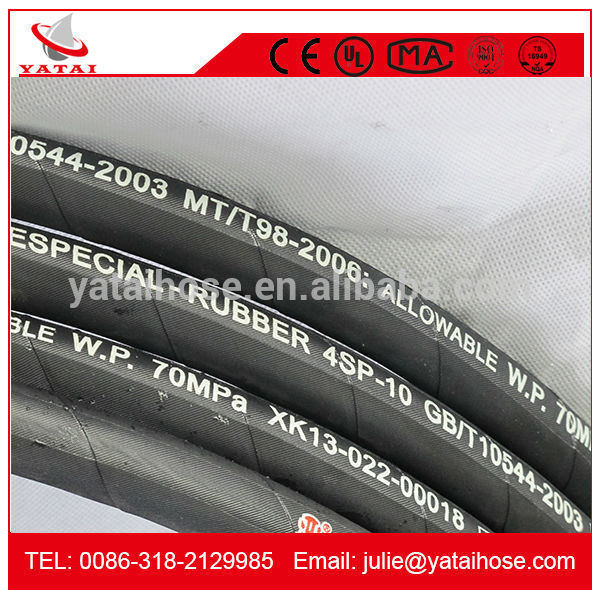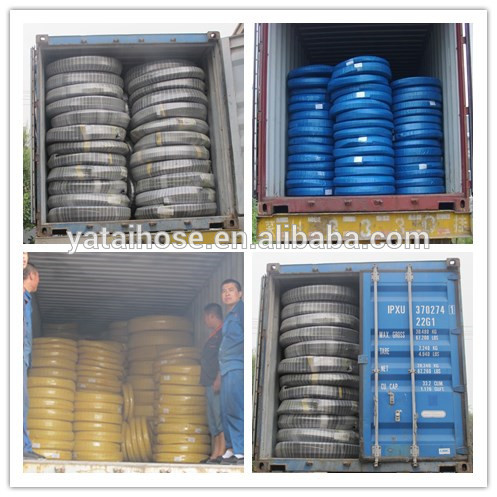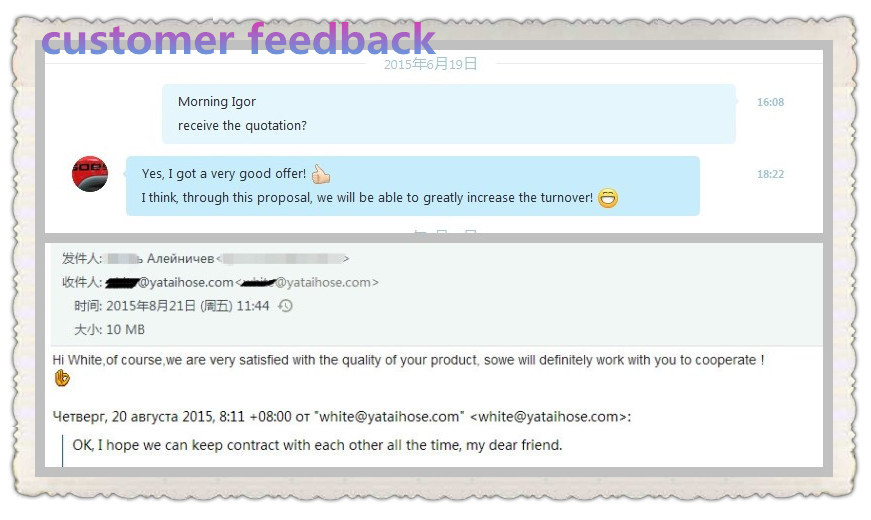 Hydraulic Pipe Certificate: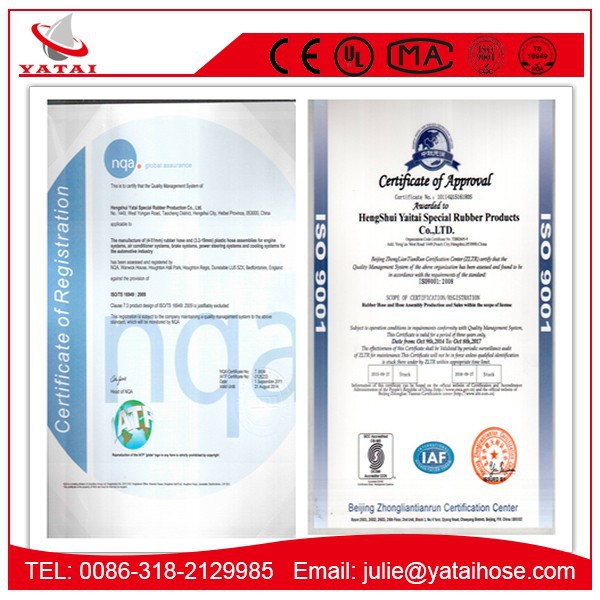 Hydraulic Pipe Raw Material :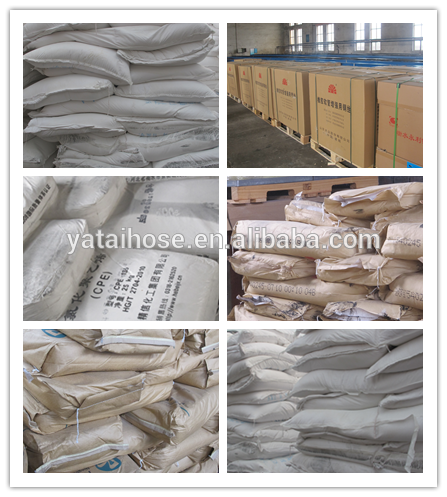 SAE100 R9 R12 R13 R15 4SH 4SP Rubber Hydraulic Pipe
HENGSHUI YATAI ESPECIAL RUBBER PRODUCTS CO.,LTD is established in 2001 year. 
QUALITY IS OUR COMPANY SOUL!!!  
MAIN PRODUCT TYPE

PRODUCT DETAILS

Hydraulic Hose and Fitting

Steel Wire Braided Reinforcement Hose(R1 R2 1SN 2SN 1SC 2SC R16 R17)

Steel Wire Spiral Reinforcement Hose(2SP 4SP 4SH 6SP R9 R12 R13 R15)

Fibre Braided Covered Hose (R5)

Acid and Alkali Resistant Rubber Hose

Air Screw Compressor Hose

Middle Pressure Fibre Reinforcement Hose(R3 R6 1TE 2TE 3TE)

Thermoplastic Hose(SAE100R7 SAE100R8)

Nylon Hose(Single and Double Hose)

Industrial Hose

Air/Water/Oil/Fuel/Steam/Chemical Suction and Discharge Hose

Special Hose

Concrete Pump Hose, High Pressure Drilling Hose, Inflatable Packers

Machine Equipment

Crimping Machine, Cutting Machine
      Hydraulic Pipe Exhibition: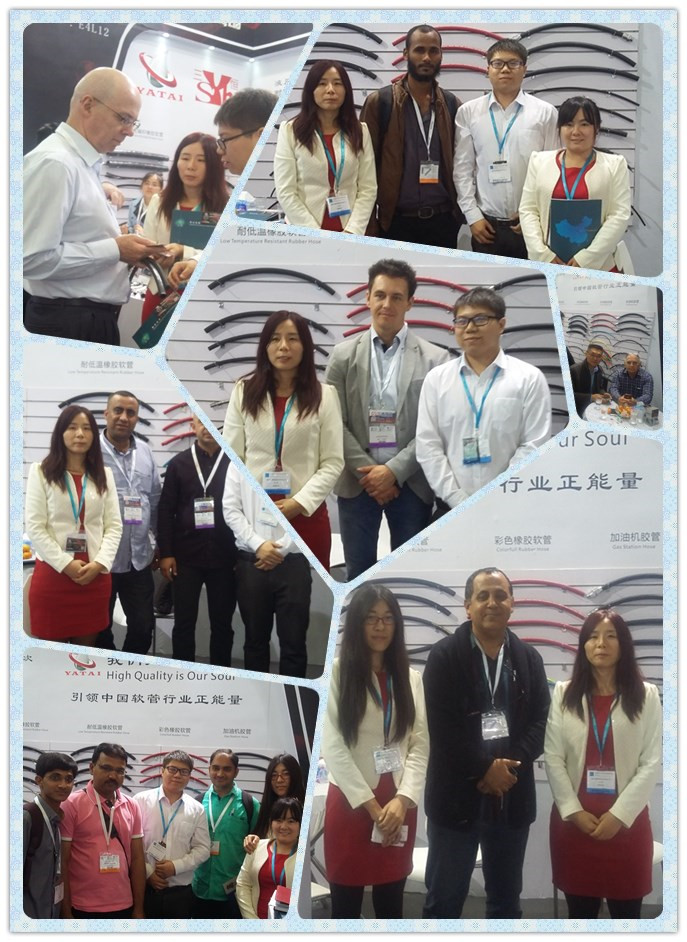 Our Factory: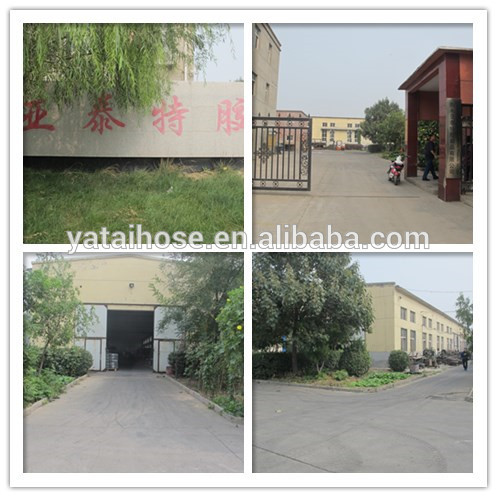 Welcome to enquire for Hydraulic Pipe.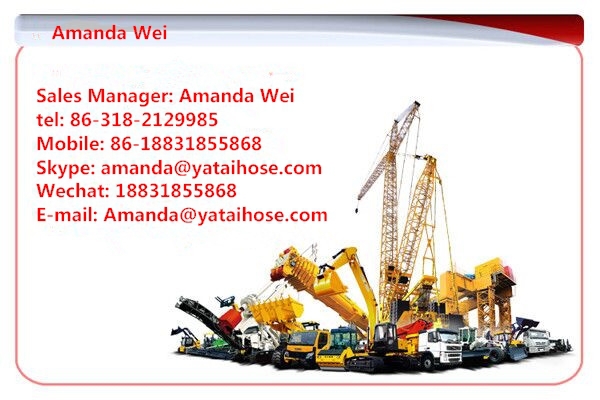 Product Categories : More Products